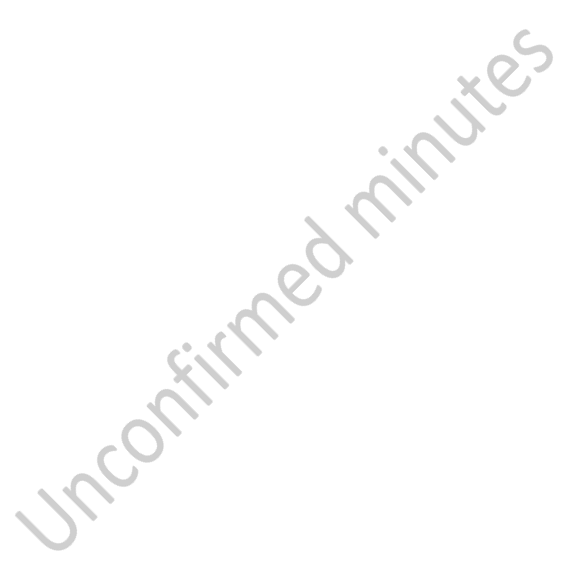 Audit and Risk Subcommittee
15 April 2020
Audit and Risk Subcommittee Minutes
Minutes from audit & risk subcommittee meeting held remotely
on Wednesday 15 April 2020, commencing at 10.00am
Present:
Chairperson, FNDC Councillor Colin Kitchen
Councillor John Bain
Councillor Amy Macdonald
Councillor Joce Yeoman
Ex-Officio Penny Smart
Independent Financial Advisor Geoff Copstick
In Attendance:
Full Meeting
CEO Malcolm Nicolson
GM Corporate Excellence Dave Tams
Finance Manager Simon Crabb
PA Corporate Excellence Judy Graham
Business support Robyn Valentine
Mr Danny Tuato'o
Part Meeting
AON - Matthew Wilson
AON – Deanna MacDonald
Deloitte – Peter Gulliver
IT Manager – Carol Cottam
HR Manager – Beryl Steele
Policy manager – Kym Ace
The Chair declared the meeting open at 10.01am.
Apologies (Ngā whakapahā) (Item 1.0)
There were no apologies.
Welcome to first meeting and acknowledged both new and experienced committee members. Welcome to Danny Tuato'o audit & risk new independent members.
Housekeeping: Ensure you are firesafe within your bubble and have an escape plan should it be necessary. Make sure you have working smoke alarms (checked) and that all power points are safe.
Mr Tuato'o introduced himself. His Focus on audit and policy.
Declarations of Conflicts of Interest (Nga whakapuakanga) (Item 2.0)
It was advised that members should make declarations item-by-item as the meeting progressed.
ID: A1297094
Report from Simon Crabb, Finance Manager
Matthew Wilson from AON insurance gave a presentation on overview of who AON are, what they do for councils.
Noted that Covid-19 from insurance perspective is not an insurable event as there is a pandemic/infectious diseases exclusion clause
Class action suits coming to the fore now as well, suits were opt-in now may become opt-out which means that the settlements may be significantly higher.
Number of questions asked from all members of subcommittee Matthew Wilson from AON will answer in more detail by email.
Mr Danny Tuato'o to catch up with Corporate Excellence Group Manager to view extent of cover/exclusions.
Secretarial Note: Chair – Councillor Kitchen advised that Items (3.3) & (3.4) will be addressed following Item (3.5)
Risk Management Policy, Framework and reporting concepts (Item 3.2)
ID: A1283662
Report from Kym Ace, Corporate Systems Champion
Corporate Systems Champion Kym Ace gave a brief overview on what the new risk framework will look like. Current register is Excel spreadsheet which offers basic reporting. The Promapp risk module will give an overview of risks and then gives inherent / residual risks – highlights the top risks and who is responsible along with control sign off/escalates risk if necessary. Secretarial Note: Councillor Yeoman advised that Item 3.1 and 3.2 had not been Moved & Carried both items 3.1 & 3.2 moved by Yeoman and Second by MacDonald
Moved (Yeoman /Macdonald)
Item 3.1
That the report 'Insurance Overview' by Simon Crabb, Finance Manager and dated 18 March 2020, be received.
Item 3.2
1. That the report 'Risk Management Policy, Framework and reporting concepts' by Kym Ace, Corporate Systems Champion and dated 4 February 2020, be received.
2. That the revised policy, framework, reporting and implementation plan, as attached (Appendix one to four) is accepted.
Carried
Health & Safety Update (Item 3.3)
ID: A1295118
Report from Beryl Steele, Human Resources Manager
HR manager gave a presentation and update on where Northland Regional Council is around H&S.
· Changing H&S committee structure – update of members – more responsibility for reps
· Risk register – overhauled, in line with overall risk register
· Risk assessments – forms updated
· Internal Comms – more on express
· Reporting – was good but dropped in March, more reporting needed.
· HSNO – updated and improved. Working on lab process
· Training database – review and revamp with bring ups
· Traffic management plans sign off from NTA – training traffic controllers
Moved (Yeoman / Kitchen)
Presentation by HR Manager Beryl Steele be received.
Carried
Cyber Security Update (Item 3.4)
ID: A1294318
Report from Carol Cottam, Information Services and Technology Manager
IT Manager gave an update on cyber security project action plan noted it is different to Deliottes plan - difference around what's in place around budget. Training with staff occurred which has returned. Writing a plan for ongoing issues that are coming up.
Moved (Bain / MacDonald)
That the report 'Cyber Security Update' by Carol Cottam, Information Services and Technology Manager and dated 9 March 2020, be received.
Carried
Northland Regional Council - High level Audit Plan for the year ended 30 June 2020 (Item 3.5)
ID: A1294915
Report from Deloitte – Perter Gulliver
Intro from Peter Gulliver from Deloitte - appointed to audit Northland Regional Council for year ended June 2020, may need supplementing given the new environment due to COVID.
Page 4 – approach to audit and timeline and reporting
Page 6 – audit risk and focus – materiality threshold and how it meets organisation requirements – to be set when June figures comes through – Discussed areas of focus for audit for the council plus additional areas required by OAG
Page 7 timetable of audit
GM Corporate Excellence gave overview of sub-committee – Peter Gulliver has been an auditor in the government sector for number of years, Northland Regional Council has very competent team and we have a collaborative and informative relationship – controls environment consistent with previous years and operating well.
Independent GST Review (Item 3.6)
ID: A1297039
Report from Simon Crabb, Finance Manager
Engaged Findex to undertake review on GST for the financial year. Treatment GST on revenues rating revenues being undertaken correctly
Unexplained variance about 1% (about $100,000) - tolerance level +/- 3%
Can claim GST on items under $50 without GST receipt i.e. parking receipt – only 18 instances equating to about $50 extra GST claimed.
Moved (Yeoman / MacDonald)
That the report 'Independent GST Review' by Simon Crabb, Finance Manager and dated 18 March 2020, be received.
Carried
General Business - Internal Audit (Item 3.7)
ID: A1296072
Report from Dave Tams, Group Manager, Corporate Excellence
The meeting concluded at 12.25pm.