14 June 2021
Whangārei Harbour Catchment Group Record of Actions
Meeting held in the Council Chamber
36 Water Street, Whangārei
on Monday 14 June 2021, commencing at 1:00pm
Tuhinga/Present:
NRC Councillor Jack Craw
Whangarei District Council Representative Simon Charles
Community Representative, Jeremy Busck
Community Representative Will Steward
Community Representative Johanna Dones
Community Representative Pete Bray
I Tae Mai/In Attendance:
NRC Land Management staff: Lorna Douglas, Sabrina McKenzie, Andy McCall
NRC Climate Resilience Coordinator Matt de Boer
The meeting commenced at 1.05pm.
Ngā Whakapahā/Apologies (Item 1.0)
Kim Jones, Mira Norris,Adrian Tonks
Actions from last meeting (Item 2.0)
| | | |
| --- | --- | --- |
| Item | Who | Decision/Action |
| Send TOR & non regulatory priority table to group | Lorna | Done |
| Think about who might like to put their name forward for chairperson role | All group | On going |
| Consider group purpose and potential actions for future | All group | On going |
| Send suggestions for LTP submissions to Lorna for collation: ASAP | All group | Done |
Presentation on Kotuku Street wetland (Item 3.0)
Matt de Boer, NRC's Climate Resilience Coordinator spoke to the group about plans to restore the wetland on council land above the
Hopua te Nihotetea detention dam, describing possible options put forward by ecologist David Wright. Discussion covered issues of eradicating Glyceria maxima (an invasive wetland weed), the amount of sediment that might be coming down the catchment, ownership/use of land upstream and most appropriate / achievable option for the restoration work.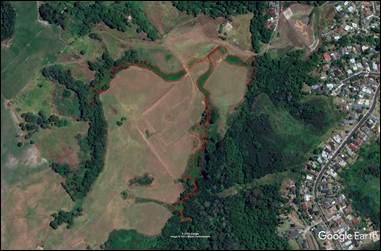 Those in attendance agreed to allocate the 2021 financial year discretionary funds to this project, if approved by other group members. The $10,000 would be used to increase planting density of the proposed planting clusters. Fencing would be moved and/or upgraded by the property lessee. Fencing needs to be at least 3m from the wetland edge to be compliant with new regulations and allow room for further planting.
ACTION – Lorna to request a response from wider group via email vote.
Update on Whangarei Urban Awa project (Item 4.0)
Andy McCall updated the group on the latest reporting to MFE on the project's achievements to date:
· Year 1 fencing KPI is on track – achieving 7.6km of fencing across 10 properties
· Year 1 planting is also on track, with a planned area of 1300m2 to be started before the end of June
· 3 troughs have been allocated so far.
· Good engagement with landowners, allowing for KPIs to be met.
Other business (Item 5.0)
Discussion about future focus of the group.
Simon agreed to present to the group's next meeting about the water quality monitoring at Limeburner's Creek (part of the wastewater treatment plant consent renewal) and to provide an update on WDC's Blue-green strategy.
Next meeting date: 11 October 2021
Whakamutunga (Conclusion)
The meeting concluded at 2.30.